Sunshine Thrift Donations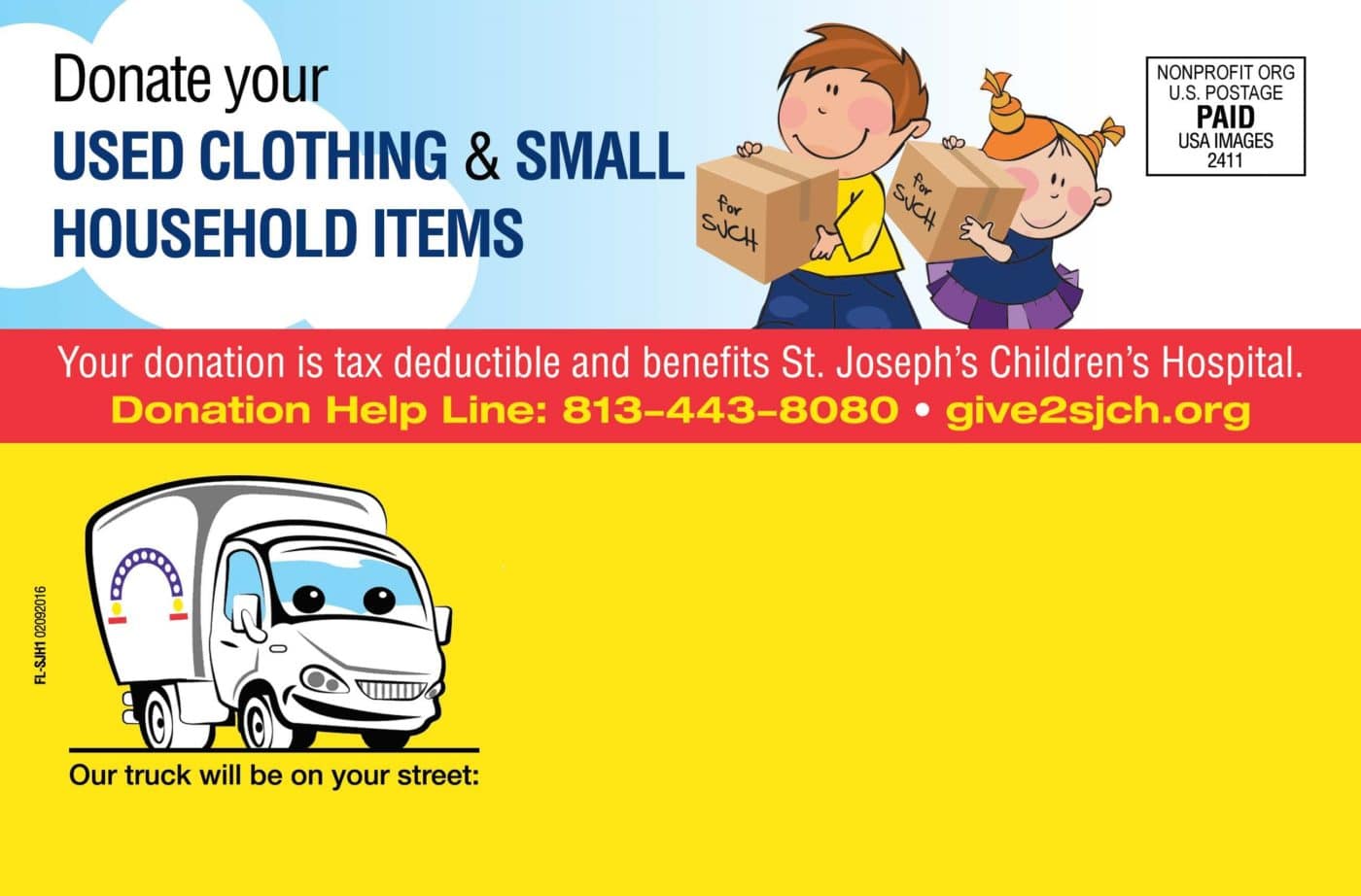 On the specified date in red, sunshine thrift will be in your neighborhood for donation pick up.
1. Place your boxes/bags CURBSIDE by 8:00 am on the date noted on the front of the card.
2. Attach the mailer to one of your bags/boxes. Any additional boxes/bags should be marked with the letters "SJCH".
3. No need to call, our truck will be on your street between 8:00 am and 6:00 pm.
To schedule a curbside pick-up by calling (813) 443-8080.
Frequently asked questions
In general, clothing and small household items such as dishes, garden tools, kitchen accessories, sporting goods, and small appliances are accepted.
The following is a list of donations that CAN be accepted.
Clothing (childrens, mens, womens – any condition)
Clothing (bathing suits, undergarments, lingerie)
Shoes (any condition)
Bedding (sheets, blankets, pillows, bed skirts, etc.)
More…
Bric-a-brac, knick-knacks
Artwork (pictures, wall decorations)
Baby Items (highchairs, cribs-disassembled, etc.)
see non-acceptable items
Bicycles
Books (paperback or hardback)
Cameras (unused film, camera cases, camera stands, lenses)
Car items (mats, seat/car covers, bug deflectors)
CD's/DVD's any format
Coats/Jackets
Crafts (baskets, beads, tools, supplies)
Dishes (china, glasses)
Furniture (small items ONLY)***
Glassware (coffee mugs, bar glasses, etc.)
Hangers
Hats
Holiday Decorations (any season)
Garden Tools (garden hoses, lawnmowers, etc.)
Jewelry (costume, genuine, etc.)
Kitchen Accessories (gadgets, small appliances, pots & pans, silverware)
Lamps & Lampshades
Microwaves (microwave stands)
Music Boxes
Music Instruments (horns, drums, flute, etc.)
Office Supplies (calculators, desk organizers)
Picture Frames
Photo Albums
Purses (wallets, handbags, duffel bags, luggage)
Radios, cellphones, iPods, headphones
Record Players
School Supplies (back-packs, lunch-boxes, etc.)
Sewing Machines (material, patterns, tapestry, knitting needles)
Silk Plants
Socks
Sporting Goods (skates, balls, bats, fishing rods, etc.)
Stereos (speakers, stereo cabinets, etc.)
Step Stools
Tapes (Blank, Cassette, 8-Track)
Tape Recorders
Towels
Toys & Games (stuffed animals)
TVs (any size but console TV's, TV trays, TV stands)
Vases
Video Players/Games (Nintendo, GameCube, Atari, etc.)
VCR's, DVD players, CD Players
Window Treatments (Blinds, Curtains)
---
The following is a list of donations that CANNOT be accepted
Furniture, large appliances, or any items needing repair cannot be picked up. Please only leave items that can be reasonably and safely loaded by one person.
More…
Animals (live)
Appliances (refrigerator, freezer)
Automobiles (please call for assistance)
Building Materials
Canned Food
Cash, (please call the office for specific instructions)
Carpeting, Construction Material
Chemicals (paint, oil, gasoline, liquids)
Children's Bikes
Children's Toys (Painted Metal, Painted Wood)
Computers (printers, computer supplies & programs) due to disposal restrictions
Dishwasher
Gas Grills
Items requiring a title (boats, cars, Waverunner, trailers, etc.)
Newspapers
Pallets, wood
Plants (live)
Propane Tanks
Toilets
Washer/Dryer
Water Heaters
Weapons
Your donations are sold at the local Sunshine Thrift Stores. Proceeds from the sale are used to fund valuable programs at St. Joseph's Children's Hospital.
Yes.
Gifts to the Foundation are tax-deductible as allowed by law and an appropriate gift acknowledgment or receipt is provided to each donor. A copy of the official registration (#CH654) and financial information may be obtained from the Division of Consumer Services on their website www.800helpfla.com or by calling toll-free (800) 435-7352 within the state. Registration does not imply endorsement, approval, or recommendation by the state. State of Florida Solicitation Number CH654. Please contact us if you do not wish to receive future fundraising requests supporting St. Joseph's Hospitals.
On the day of pickup, Sunshine Thrift will provide you with a tax receipt as proof that you have donated articles to benefit St. Joseph's Children's Hospital Foundation. It is your responsibility to complete the form, place the value of your items in a clear location, and submit with your tax return.
If you have questions on placing a value on your donated items, a detailed listing of all types of donations and their values are on the IRS website.
If you did not receive a tax receipt on the day of pickup, please contact Sunshine Thrift at (813) 443-8080.
After verification of pickup, a receipt will be sent to the home address you provide to us.
4304 S Dale Mabry Hwy, Tampa, FL 33611
(813) 644-6968
Monday-Friday 8:00am-5:00pm
Saturday 8:00am-6:00pm
Sunday 11:00am-6:00pm
2808 34th St N, St. Petersburg, FL 33713
(727) 522-2500
Monday-Friday 8:00am-5:00pm
Saturday 8:00am-6:00pm
Sunday 11:00am-6:00pm
3611 1st St E #230, Bradenton, FL 34208
(941) 281-2940

Monday-Friday 8:00am-5:00pm
Saturday 8:00am-6:00pm
Sunday 11:00am-6:00pm