Medical Device Helps Daniel's Family Bond
The last six months have been a whirlwind for Julianna Perenzuela and her family.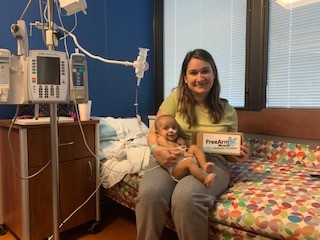 When their beautiful baby boy Daniel arrived last year, he was greeted with all the usual fanfare, especially since Julianna had recently miscarried and Daniel was her Rainbow baby. Daniel's dad Israel was overjoyed to welcome his son, and Daniel's two-year-old big sister Bella was eager to help her mommy take care of her new baby brother.
But five days after his birth, Daniel became ill – and the family's world was turned upside down. As a result, St. Joseph's Children's Hospital has become their second home.
"As parents, we want to protect and care for our children, and when things are out of our control, it's scary and overwhelming," shares Julianna. "But the staff here treats us like family, so even though things are still scary, we feel so supported and loved."
Daniel's condition was initially identified as failure to thrive and he was given an nasogastric (NG) tube to help him get the nutrition he needed. Unfortunately, it didn't help. He was eventually brought to St. Joe's, where the placement of a modified GI tube enabled him to finally tolerate feedings successfully. It was a key first step in stabilizing Daniel.
But the feeding setup that helped give him the necessary physical nourishment made it difficult for his parents to give him vitally important emotional nourishment.
Touch is one of the most basic connections between a parent and their baby. And when your child is sick or hurting a comforting hug and extra snuggles become even more important. All the tubes and equipment keeping Daniel alive made that bonding experience next to impossible.
When the Perenzuel's nurse case manager noticed how desperate they were to hold their little one, she went to work trying to find a solution. The answer came in the form of a simple device called the FreeArm. The FreeArm's bendable arm literally lends an extra hand and provides more mobility with syringe feeding, pump feeding, and infusions.
But what that really means is parents like Julianna and Israel get the chance to hold and comfort their precious son. And for that they could not be more grateful.
"We are so very happy that this device has given us the ability to bond with Daniel once again," shared Julianna. "I came to realize I may need these hugs more than he does. Our social worker knew that before I did. It's just one example of how the staff here is committed to helping not just Daniel through this, but all of us."
The Perenzuels don't know what the future will bring. Their doctors at St. Joe's believe his condition is a mitochondrial disease and the results of genetic testing will hopefully provide further guidance.
But in the meantime, those family snuggles have become a priceless gift and Julianna remains hopeful knowing that with the help and support of St. Joe's they will be ready to face whatever comes next.
"We love St. Joseph's Children's Hospital, and will never take our children anywhere else."