For the Parents of Preemies, AngelEye is the Next Best Thing to Being There
For parents, holding their baby for the very first time is one of life's most amazing gifts. But when newborns make an unexpected early appearance those precious first moments can often be brief and tense, leaving parents feeling lost, anxious, and overwhelmed as their child is whisked away to the Neonatal Intensive Care Unit to receive the expert care they will need to survive.
At St. Joseph's Women's Hospital, we know that taking excellent care of our preemies involves addressing the needs of their parents as well. According to BayCare neonatologist Aaron Clark MD, "In addition to providing great medical care to optimize outcomes for these babies, we strive to encourage family involvement and improve the overall family experience during a tremendously stressful time in their lives."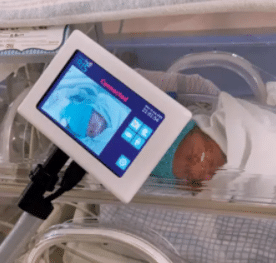 Our family-centered approach means parents can stay overnight in private rooms with comfortable beds and full bathrooms and visit any time they want 24/7. And to help promote critical bonding experiences, we encourage as much parental involvement as possible through temperature checks, diaper changes, and feeding.
However, while every parent wants to be at their baby's bedside all the time, not everyone has that luxury. The reality is that parents can't always be in the NICU with their child. Perhaps there are other children at home who must be cared for or a need to return to work. Sometimes new moms might be recovering from a C-section or other childbirth complications and can't be in the same room as their baby. No matter the reason, the choice to leave their little one's bedside is never easy.
Witnessing the distress this caused our NICU parents, St. Joe's medical team set out to find a solution: their research led to the AngelEye NICU CameraSystem. If parents can video chat with their kids away at college, why not have them check in with their newborns in much the same way?
This state-of-the-art system brings live-streaming video of their little one to family members anywhere, anytime, on any device. In addition, a one-way PatientConnect feature allows care teams to easily share patient status and memorable moments with real-time texts, pictures, and recorded videos, giving families a view into the treatment plan and progress their baby is making even when they can't be there physically. The result? Use of the AngelEye system has been shown to reduce stress and anxiety for parents and support bonding when family members cannot be at the hospital – a virtual human touch to help them regain some sense of control. Studies have even shown NICU moms who are breastfeeding have been able to produce more milk just by being able to visually see their baby on the monitor.
While the benefits of the system are clear, the challenge for St. Joe's is making sure we can deliver the AngelEye system to every NICU patient and their families. And we are counting on our generous donors to help make that possible.
Charles Ennis, the Director of Patient Services, NICU and Pediatric Transport at St. Joseph's Women's Hospital feels being able to offer the AngelEye system will be a gamechanger. "Being able to see their baby whenever they want and putting info about their status at their fingertips is something that will empower and engage our NICU parents. That can make a huge difference in how they manage and deal with such a difficult time in their lives."
With the help of our supporters, St. Joe's will be bringing the AngelEye experience to our preemie parents in the very near future. We are excited to make this invaluable resource part of the NICU's family focused approach as we care for both St. Joe's tiniest patients and the people who love them.