Everly's Story: Closing the Hole in Her Heart
Jennifer Johnson had her first daughter at St Joseph's Women's Hospital thirteen years ago. It was a textbook delivery. She and her husband Wallace remembered thinking how wonderful everyone there was, so four years later when they found out they were expecting twins, they knew St. Joe's was once again the place for them.
Her pregnancy was proceeding normally until Jennifer suddenly went into labor with the twins at twenty-five weeks. She and Wallace knew it wasn't ideal, but the team at St. Joe's kept them calm and confident. Their new little ones arrived healthy but weighing only 1-1/2 pounds and wound up spending 88 days and 98 days in the NICU.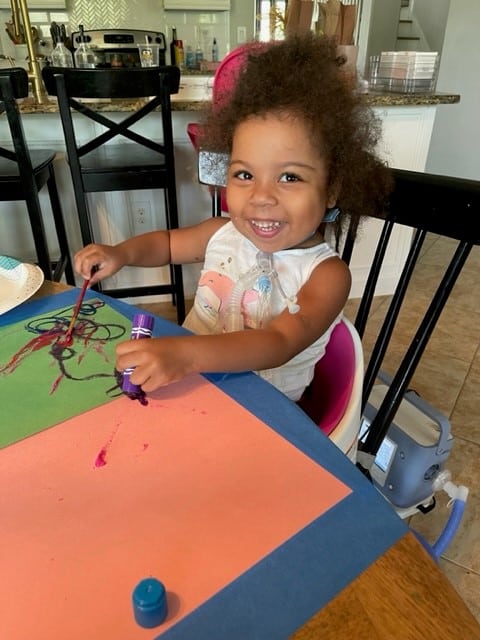 "When your babies spend that much time in the NICU you really get to know the people taking care of them," shares Jennifer, who was impressed right from the start. "It was a difficult time for our family, especially with a four-year-old at home, but St. Joe's made an overwhelming time in our lives somehow manageable. We are actually still friends with our NICU nurses, because they truly do become part of your family."

When they discovered Jennifer was pregnant with their fourth child, Everly, the Johnsons had no idea how much they would come to lean on that newfound family in the years to come.
"At 23 weeks into her pregnancy Everly was diagnosed with a heart defect," explains Jennifer, "and I was put on hospital bed rest. It really seemed like I was going to have Everly early as well. I was scared, but my experience at St. Joe's with the twins helped me focus on the fact that everything would be okay, even though we knew there might have complications because of her heart condition."
While Wallace held down the fort at home, Jennifer did everything her doctors and nurses told her so she could keep Everly "percolating" for as long as possible.
Everly was born at 32 weeks. She only weighed three pounds, but she was healthy. She didn't even need oxygen in the NICU, but having been born with a complete AV canal, which basically translates into a hole in the middle of her heart, she would eventually require cardiac surgery. The timing varies by patient. While they watched and waited to determine the best time for her heart surgery to take place, Everly wound up needing liver surgery at less than three months old.
"We had prepared ourselves for the eventuality of the heart surgery; the liver surgery took us by surprise," says Jennifer. "But the experience really cemented our trust in St. Joe's."
That trust took Everly and her family through multiple heart surgeries (the first at eighteen months) and lengthy hospital stays with the renowned Patel Children's Heart Institute at St. Joseph's Children's Hospital. In her three short years, Everly has received a pacemaker, a trache, and spent time on a ventilator.
According to Jennifer, "It has been a long road. It has been a scary road. But I can't say enough about the level of support we've received along the way from everyone at St. Joe's. At every turn we have been so impressed with not only the medical care, but also the personal care Everly has received."
Whether taking time to sit and color with their little girl, watch her favorite TV show with her, or buy her a special Kentucky Derby outfit complete with the perfect Derby bonnet, Jennifer can't say enough about the love the St. Joe's team showered on her daughter.
"There were times when Wallace and I had to be home for the other kids. They were still young and needed us too, but we always knew on those rare occasions, Everly was in good hands. It was a huge relief for us. And we could tell she wasn't afraid for us to leave. That says a lot."
Wallace has been especially appreciative of how Everly's medical team listens to him and his wife.
"Having a voice, and knowing they truly pay attention, has been huge. Here are all these highly skilled doctors, surgeons, nurses and other professionals who make us feel like what we have to say matters. No questions asked. They are patient and accommodating and always want us to feel involved in every aspect of Everly's care."
Jennifer adds, "And it wasn't just Everly who they took care of. They took care of my whole family. They always made sure we were comfortable during our many nights and days at the hospital. They bought Christmas gifts for our other kids and asked about them and how they were doing. In the middle of everything we were going through, those little touches meant a lot."
"The Patel Children's Heart Institute at St. Joseph's Children's Hospital gave us that," says Jennifer. "And we will forever be grateful."
Everly is now happy and healthy, going to school, swimming, dancing, playing soccer, and doing all the things a typical three-year-old should be. She was even the flower girl at one of her nurse's weddings. To look at her you would never know what she's been through.